If you're as passionate as fishing about me, then there is no off-season.  Once the air temperatures and river temperatures drop the fishing slows, but doesn't stop.  It generally takes a lot more time to just get a couple of bites, but those bites stand a great chance to be from a quality smallmouth.  I wanted to share my advice & tips on winter time smallmouth fishing.  Even though in Northern VA the air & water temps are climbing out of the low 40's, the fish can still be sluggish.  And you can always use this advice for next year.
The most important thing about wintertime fishing is safety.  If you aren't properly prepared with the right clothing and gear, it is not worth risking your life on the water.  The 120 degree rule applies here.  If the water & air temps don't add up to at least 120, you need the right clothing and layers to be on the water.  Here's a small list of what I usually wear & take:
Base layer of a wicking, NON-COTTON material
wicking socks followed by fleece socks
Fleece pants & fleece shirt(s)
Breathable waders, substitute dry-suit in very cold climate conditions
Semi-dry paddling top
Neoprene style boots (2 bigger)
As for fishing techniques, the best way to describe it is LOW & SLOW.  WHen water temps get down to low 40's or even below, they don't eat a lot.  They are not going to chase spinnerbaits & crank baits like they did in fall.  Jigheads topped with plastics, hair jigs, and regular jigs are great.  I personally recommend Winco's Custom Lures for winter smallies.  His Cold Water Delights on Flutter heads are excellent baits, as it caught this 17.25″ smallmouth in 38 degree water in first week of January.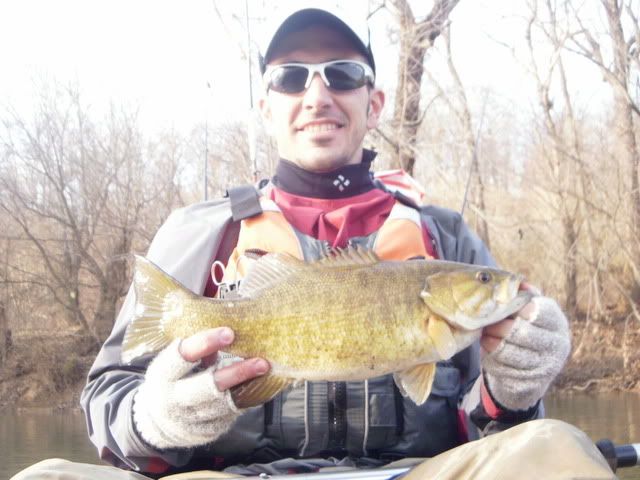 As for locations, look for major current breaks that provide still water.  Eddy areas behind big ledge rocks, underwater ledge trenches that run perpendicular to the current, shoreline eddy areas are all good places to look.  The key is still water that the smallmouth doesn't have to fight.
The most important thing to remember about winter smallies is PATIENCE.  You have to work & present your lures in the right locations for long periods of time.  In the above pic, I had fished for about 5.5 hours without a hit until that smallie hit at the end of day.  But wintertime smallie fishing is so REWARDING.  It builds your confidence, both in the moment & in future trips.  Because if you can find and catch them in the coldest river temps you will have all year, you can catch them when the going gets tough during the warmest time of year.
My last trip on the Potomac River typifies winter smallie fishing.  I was out for about 4 hours working areas with significant current breaks.  Only got 2 hits during the afternoon, but it was the following 17.5″ & 18.5″ smallmouth.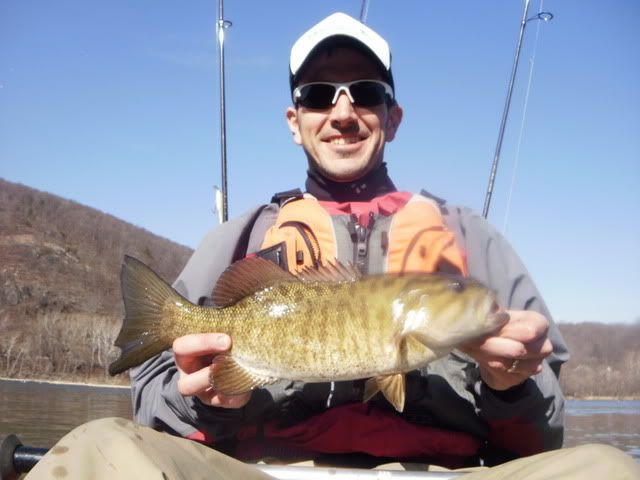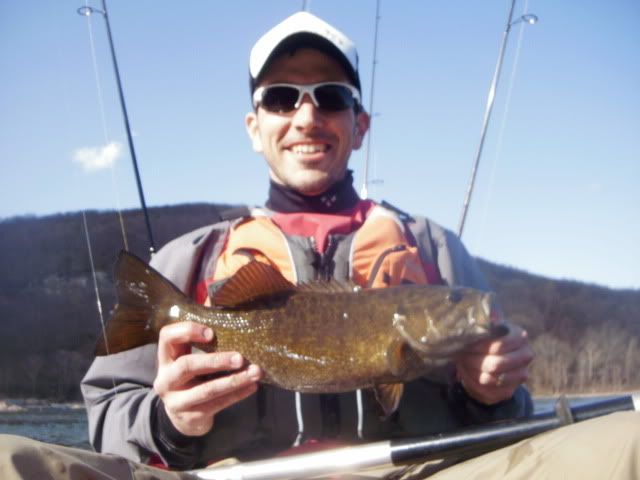 So get out there and give winter smallies a shot.  You'll be glad you stuck out the tough conditions.