Now that winter is starting to set in here in Virginia, I wanted to take a few minutes to share my new favorite smallmouth technique.  Before I get too far, I need to thank Juan Veruete of Kayak Fish PA, LLC.  He provided this technique during my first guided kayak trip with him during the fall of 2010.   This specific spinnerbait technique is for the late spring to early fall seasons, when water is warm enough for smallmouth to be in shallower water and still active/aggressive.  I'll always have a spinnerbait tied on during a float and throw it all day, even if I only manage a couple of fish.
My spinnerbait rod is a 7′ MH St Croix Mojo spinnerbait baitcasting rod with a 7.1:1 KVD Quantum baitcasting reel spooled with 20# Vanish flurocarbon.  The usual spinnerbait is under 5/16 oz in white, white/chartuese, chartuese, dark green, black, and dark green/black depending on water color.  The darker the water color, the darker the skirt color.  In sunny conditions and clearer water, I'll go with silver willow-leaf blades and in cloudy conditions and dirtier water, I'll go with gold blades and colorado blades.  If the water is clear, you want the fish to see the spinnerbait & if it's dirty to feel the vibration of the spinnerbait's blades.
You want to look for the hard current seams & eddy areas in a river to throw spinnerbaits with this technique.  It can be behind ledge rocks, wood debris, or simply the area of a river where fast and slow current meet.  This forms the current seam that smallmouth love.  Here's a typical location that occurs on the local river I fish.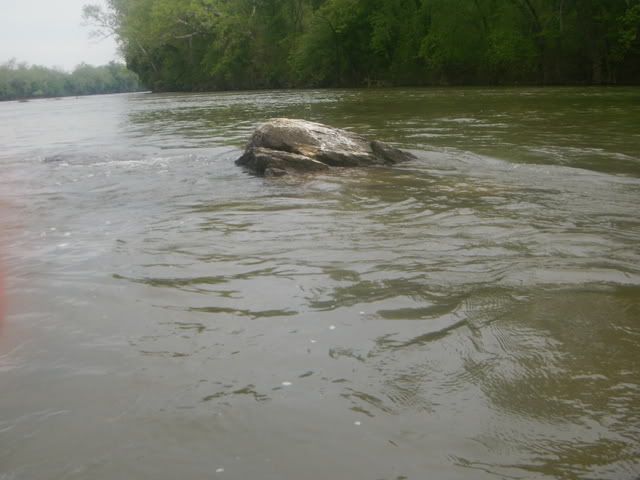 When you come to the eddy area/current seam, you want to cast into the faster water and reel into the eddy area.  The bigger smallmouth will either be right near the current seam or back into the eddy.  You just have to make enough casts to cover the area completely.  Don't overlook the small eddy areas and current seams, as big smallies don't need a big area.  If the bottom cover is right, smallmouth will be there.
The more you try this technique, the more you'll like it.  It tends to be a quality fish producer, as this 18.5″ smallmouth from last May proves.