Personally, 2011 was my best year of smallmouth fishing.  I found that both my confidence & smallmouth angling skills grew so much over the year.  I found myself able to read rivers better, find high percentage locations, and increase the quality of catches.  I caught two smallmouths 18″ or bigger, which has never happened in one year.  But this year of success & increased fishing ability would not have been possible without help from a number of sources.  So here are couple of much deserved Thank You's for 2011.
Thank you to Juan Veruete of Kayak Fish PA, LLC.  Juan is a licensed guide & ACA Kayak Instructor who offers guided kayak trips on the Susquehanna & Juniata Rivers in Pennsylvania.  I have taken two trips with Juan & learned so much about reading rivers and smallmouth angling.  Juan does an excellent job of teaching both kayak and angling skills during an entire trip.  Anyone who books a trip with him will gain so much valuable smallmouth information, and potentially a new personal best.  This 18″ smallie from my first trip in 2010 was my first 18″+ smallie ever and personal best until 2011.
My latest trip with Juan was this past spring and included a focused discussion and demonstration with suspending jerk baits.  Ideal water temps, water color, and conditions were covered, with Juan pulling in a nice smallmouth at the end of his lesson.  I promptly lost a big one.  But fast forward to this past fall and falling water temps.  I committed to following his advice & making a concentrated effort with jerk baits in 50-55 degree water.  One afternoon yielded this 18″ smallmouth, with two more 15-17″ lost at the beginning of the outing.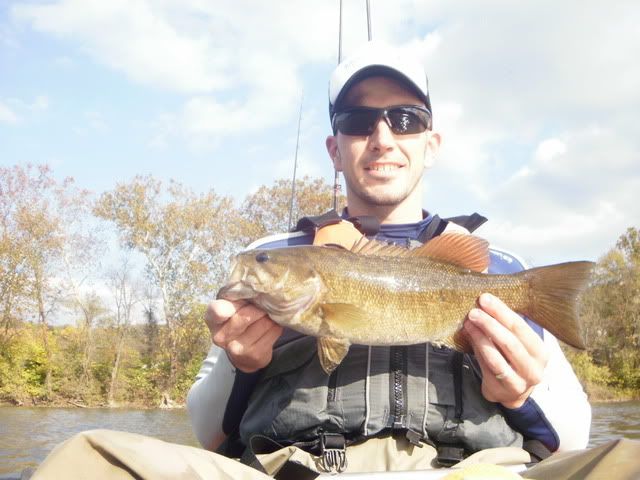 Thank you to KayakBassFishing.com & all of the great anglers on that site.  There's so many other good smallmouth anglers on that site who gladly share more good information there.  From lures used to techniques used, you will find all the bases covered on KBF.  It is a great resource that should not be overlooked for all kayak fishing.  The amount of kayak rigging information is second to none.  Most of my kayak rigging and mods are from borrowing other ideas.
A final Thank You goes out to Winco's Custom Baits and his excellent line up of custom hand poured baits.  His soft & hard lures cover all seasons and all conditions, from low, clear water to high, dirty water.  A well made quality bait can mean the difference when the smallmouth bite is tough.  Both his Cold Water Delight & Predator Craw on Flutter Heads yielded me most of my quality smallmouth over 16″ during 2011.  For those who haven't, check out Winco's Custom Baits.  You'll be glad you did.  This solid 17″ fell to a Predator Craw at a location pointed out by Juan on a previous guided trip.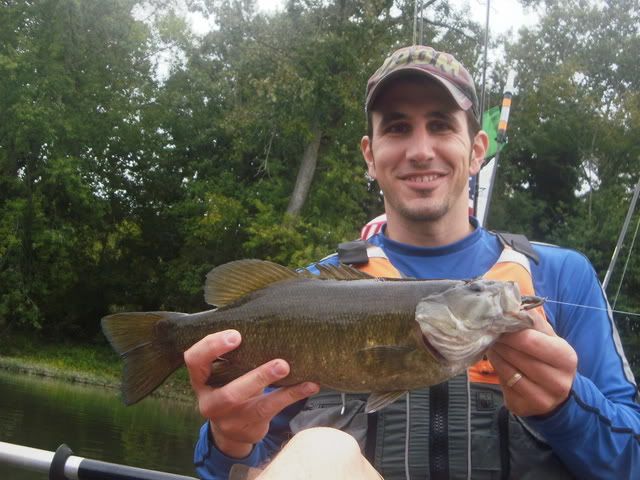 So thanks to those I've mentioned individually and as a group.  My 2011 success would not have been possible without you all.